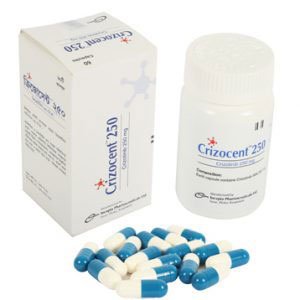 Descriptions
Crizotinib is an inhibitor of receptor tyrosine kinases including ALK, Hepatocyte Growth Factor Receptor (HGFR, c-Met), ROS1 (c-ros), and Recepteur d'Origine Nantais (RON). Translocations can affect the ALK gene resulting in the expression of oncogenic fusion proteins. The formation of ALK fusion proteins results in activation and dysregulation of the gene's expression and signaling which can contribute to increased cell proliferation and survival in tumors expressing these proteins. Crizotinib demonstrated concentration-dependent inhibition of ALK, ROS1, and c-Met phosphorylation in cell-based assays using tumor cell lines and demonstrated antitumor activity in mice bearing tumor xenografts that expressed echinoderm microtubule-associated protein-like 4 (EML4)- or nucleophosmin (NPM)-ALK fusion proteins or c-Met. To read more visit:
Incepata pharma
In bellow we have Presentation, Descriptions, Indications, Dosage & Administration, Side Effects, Precautions. Buy crizotinib 250 mg
(
Crizocent
)
only $538. To know more about the product visit 
Contact Us
 page.  
Crizocent 250 capsule 60's ( Crizotinib)
Buy Crizocent 250 mg Capsule Only